Artists worldwide are paying tribute to the late, great rapper MF DOOM with countless murals. Animator Dustin "Dus T'" Garcia already honored the villain more than four years ago, but residents of Rotterdam get to see it in their city streets as of now. The animated film he made for the song Gas Drawls will be shown on huge screens and walls as part of HIJS Lights.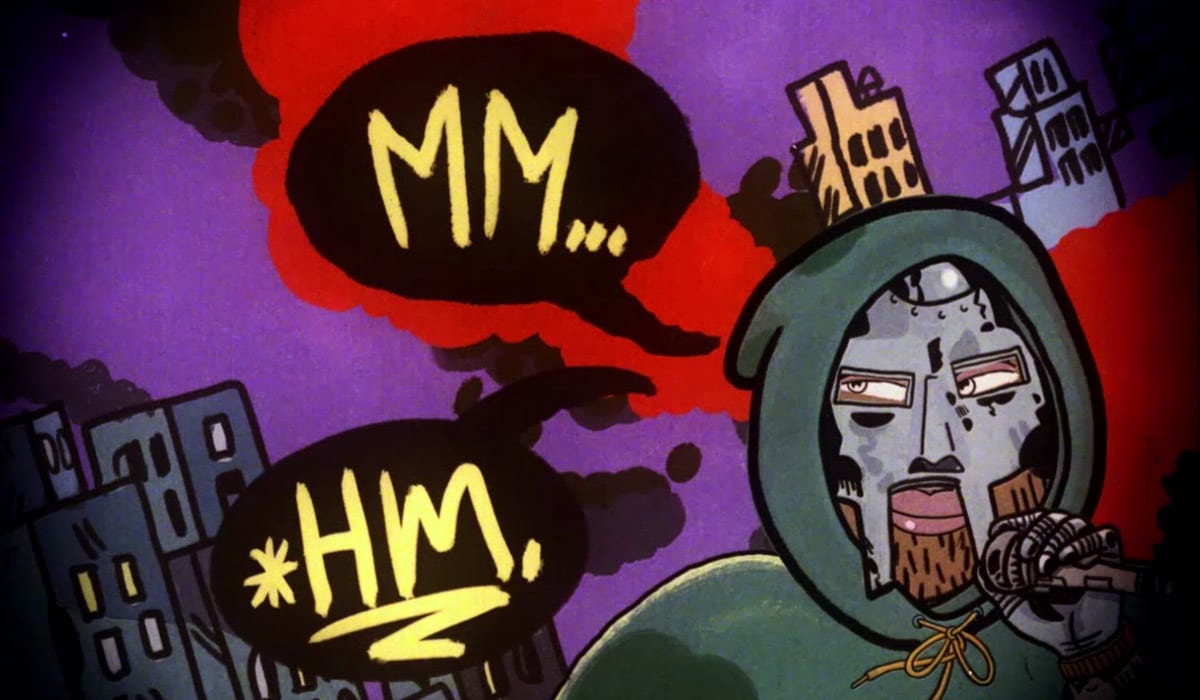 Art: Dus T' | Lead photo: Sam Bos
Since a few weeks, we've been contributing to the 'Rotterdam Verlicht' program under the name 'HIJS Lights'. On several public spaces in Rotterdam South, artworks, videos and animations are projected meters wide, to literally and figuratively lighten up the dearth of cultural activity available due to the Covid-19 lockdown. And when we learned of the passing of the phenomenal hiphop artist MF DOOM, gears immediately started turning. It had to be possible to pay tribute to him in this public exhibit we were already running, right?
We didn't have to search very far for a solution, since we were fans of the animated film Dustin "Dus T'" Garcia made ever since he published it in 2016. He chose to illustrate his own video to Gas Drawls, a classic track on MF DOOM's debut album Operation Doomsday. It's an exuberant piece of animation, bridging styles from several album sleeves in Doom's discography, and featuring an exaggerated type of movement reminiscent of classic 1930s animation, if those animators would've had Montana paint on their fingertips and worked under a fog of blunts, that is. And since a week or so, it can be seen on the immense video screen above concert hall Ahoy in Rotterdam.
---
The video premiered in 2016 on Rappcats (the online base of Madlib, Now Again Records and artist friends) the very same day that a long-overdue vinyl reissue of the album was announced there, making it seem carefully crafted in tandem. But while the craftsmanship is undeniable, its release was a case of serendipity. Dus T', moved by his love for hip hop and DOOM, started the project as a fan tribute.
"I had posted a short clip of an animation test on Tumblr that ended up getting a lot of buzz," Garcia explains explains. "Somehow it reached Jeff Jank [the art director] from Stones Throw Records, who told me he dug the video and asked if there was anything he could do to help. The rest is history. What's wild is that the repress promo was a last minute thing. It just so happened I finished the film shortly after it was announced. The timing was crazy perfect and unexpected."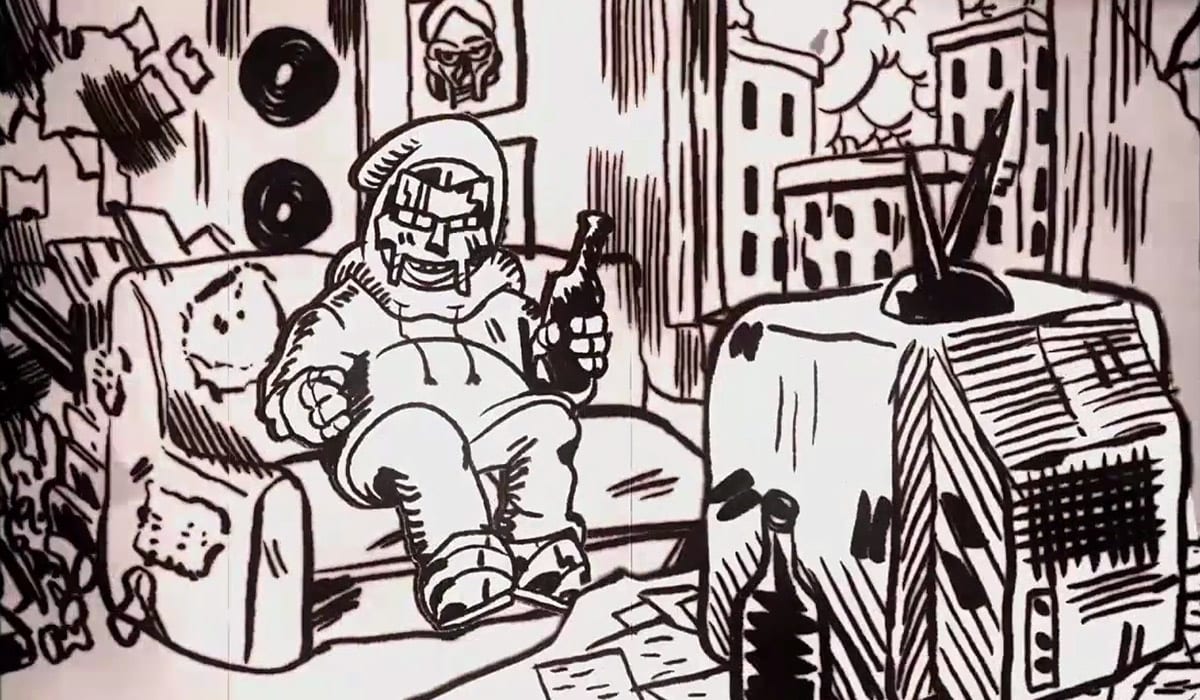 Inspired by artist Jason Jagel's sleeves for DOOM albums MM.. Food, and the reissue of Operation Doomsday, a short bit of KMD live action, and a 3D animation of the King Geedorah sleeve, which in turn leans on Toho's old school Godzilla films, there are more than a few styles borrowed from in the video. "I love Jason Jagel's painting style and I really wanted to see it come to life," Garcia explains. He likens the borrowing and merging of styles to another discipline in hip hop culture: "I like to think actually me borrowing the artwork is synonymous in spirit as when DJs sampled breaks to create an original songs. My sampling was just done with cartoons. Some artists spin wax, I spin the pen."
"I really thought hard about how to stitch all these references and images together cohesively. DOOM fanatics know that he is very particular and intentional with everything he puts into his craft, and I wanted to do the same. It's a matter of respect for DOOM and Jagel's work", the animator says. "DOOM tends to work with double entendres, and obscure references to his lyricism. As a hip hop fanatic and a cartoonist, I eat that kind of stuff up and had fun interpreting his work into motion. It was like interpreting a puzzle with art."
The puzzle pieces are, just like the work of the villain itself, not always obvious. I wanted to make sure that everything I put in there was connected to Doom somehow", Garcia states. "I would actually recommend to anyone who hasn't sat and watched the video slow, or frame by frame, to do so. I left a trail of breadcrumbs in there."
Why, out of all the records in the vast DOOM discography he chose Gas Drawls? "To me it's the track that best represents Doom. Sonically speaking, it's a perfect balance of old and new hip hop. It carries that classic B-Boy spirit with a new hat. I just felt like it was the perfect song."
Years later, people are still talking about the video, but for Garcia, it was just a way to contribute to a culture he feels he owes a lot to. "Hiphop is a way of life, and a powerful source of creative energy. All my aim was really, besides DOOM himself seeing it, was to give back to the hip hop community."
The video received many accolades and was greatly appreciated by fans, but did the metal faced villain himself get to see it? "DOOM has seen the video. His response was very appropriate: 'Kool'."
Dus T' gives workshops and works on comics and cartoons in Los Angeles. His various projects can be followed on dustooned.com. The 'Gas Drawls' video can be seen daily on the video screen of concert hall Ahoy in Rotterdam, and will soon be shown at other locations in Rotterdam as well.
For this article, source material has been used that has been published earlier on Mass Appeal.