These are the muralists of POW! WOW! Rotterdam 2019!
Posted by Jaap van der Doelen , 30 July 2019
Today, we're proud to announce the full lineup of street artists who will be transforming the Afrikaanderwijk from September 8th to 15th. That week will be named POW! WOW! Week, with a fully free festival as its finale on Sunday September 15. Many international artists, along with national top talent and local heroes, will provide the neighborhood with their amazing murals. But its not just the muralists who will add color to the Afrikaanderwijk; the 20 VANS 30 CANS event, in which 20 vehicles get a serious make-over, returns as well!
GREY CONCRETE TRANSFORMED INTO AN OPEN AIR GALLERY
The murals are POW! WOW! Rotterdam's main attraction. That is why we've once again invited a diverse selection of artists, to create some beautiful art upon the drab concrete. The mural artists who will be attending this year are (drumroll!): Telmo Miel (NL), Smug (UK), Dourone (ES), Super A (NL), L7Matrix (BR), Saïd Kinos (NL), Danny Rumbl (NL), Helen Proctor (AU), Woes (US), Didier Jaba Mathieu (SG) and Nina Valkhoff (NL). London's own Slinkachu will spread mesmerizing miniatures throughout the Afrikaanderwijk and Spenser Little will come over from the USA to introduce Rotterdam to his surprising wire creations. From the festival terrain, free guided walking tours will go through the neighborhood, so you can easily check out all the murals and the artists working in them. If you want to take a peek at their styles right now though, head on over to our lineup page!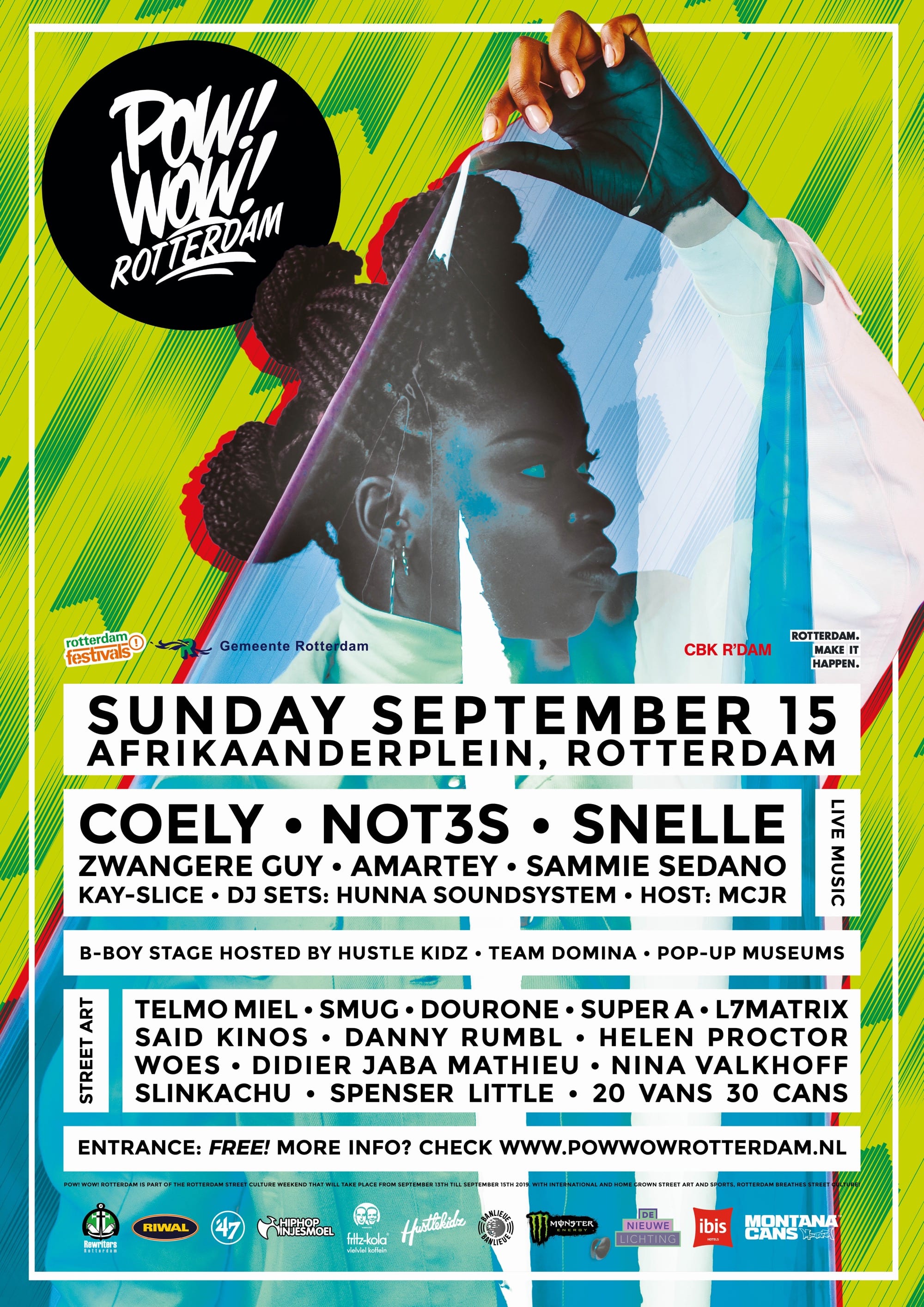 TWENTY VEHICLES PAINTED LIVE!
Due to its overwhelming succes last year, 20 VANS 30 CANS returns. On the edge of the festival terrain on September 15, twenty vehicles will be painted live. Applications for vehicle owners will open August 6. Having a look there will be a great way to spend some time on the moments when there won't be any acts performing on our main stage; the epicenter of POW! WOW! Rotterdam. Here you'll be able to see and hear a mix of international artists, Dutch trailblazers and upcoming local talent: Coely, Snelle, Not3s, Zwangere Guy, Amartey, Kay-Slice, Sammie Sedano and HUNNA Soundsystem will perform.
A SURPRISING FULL PROGRAM
Aside from all the art, there is much to see and do during the festival. A true walhalla of urban culture arises, making POW! WOW! Rotterdam more than just a great street art festival. Music, art and sports all get their own place on the Afrikaanderplein. In the week leading up to the festival, various activities for all ages will be available in the surrounding neighborhood. More information about the full program for the POW! WOW! Week follows soon. POW! WOW! Rotterdam is fully free and accessible to people of all ages.
IN SHORT:
September 8 till 15: POW! WOW! Week, with activities for all age groups.
September 15: POW! WOW! Rotterdam, festival at the Afrikaanderplein.